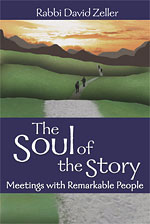 6 x 9, 288 pp (est) Hardcover, ISBN 1-58023-272-8
For orders in israel: or call us 054-6709678
: להזמנות בישראל – במייל בטלפון : 054-6709678
The book is available also in hebrew
Inspiring and entertaining stories of an adventurous spiritual seeker who leads us from America to Israel to India, back to the heart and soul of Judaism.
In this inspiring and entertaining collection of personal encounters of the soul, Rabbi David Zeller shares with readers how his spiritual pilgrimage from California to a kibbutz in Israel to a river in India, and many stops in between turned out to be the path to the heart and soul of Judaism.
Filled with touching, insightful and sometimes humorous stories of Zeller's spiritual search, he takes us along the journey that led him around the world and back to his own Jewish roots. The collection of stories chronicles the teachings and teachers he encountered along this pilgrimage, including Carl Jung, Shlomo Carlebach, Allan Watts, Sri Pad Baba, Satya Sai Baba, the "Mother" (the Sri Aurobindo Ashram), Carlos Castaneda, Ram Dass, Nakazono Sensei (a Shinto priest), Mad Bear (Native American), Carl Rogers, Swami Vishnudevananda, Swami Radha, Kennett Roshi, Reb Zalman Schachter-Shalomi, Reb Gedaliah Kenig, and many others, known and unknown. Zeller, storyteller, singer and teacher of the soul for over thirty years, shares with readers the part each teacher played in integrating mind and heart, body and soul, psychology and religion, west and east, matter and spirit, theory and experience, and how each teaching became the stepping stone to reclaiming his own spiritual tradition.
By sharing his stories, Zeller leads readers down a path of the heart to the soul, the soul of the storyteller, and to their own souls, awakened by the telling.
Read What People Are Saying About The Soul of The Story
Read the afterward added to the Hebrew edition - now available in English
Watch this photo gallery of many of the remarkable people mentioned in this book, and of David at various stops along his spiritual path or view as a slideshow in full-screen




For wholesale purchases please write to orders@davidzeller.org